Discover the real King's Landing!
Follow in the footsteps of your favorite "Game of Thrones" characters and discover the
real
King's Landing!
Dubrovnik was selected as the location set for the super popular HBO TV series in seasons 2 to 5, some of season 6, 7 & 8.
Rest assured that your expert guide is not only licensed by the Croatian Ministry of Tourism, fluent in English but also (of course) a huge GOT fan!

In addition to the sites of the
old town
, we'll also visit the
Fort of St. Lawrence
on this 2 hour tour. As you journey to each location, look at a
book of photos
from the series that explains the scenes and locations where the filming took place.
Please note this tour is not suitable for everyone due to the stairs involved, particularly on the fort of St. Lawrence.

Duration: 2 h
Price: 25 € per person + entrance fee for the fort of St. Lawrence*

Children aged 7-11:
Tour is free of charge, but fort fee still applies. Paid at the fort to the fort's authorities.*
Children aged 0-7:
Free
DAILY SCHEDULE 2023 (English)
APRIL & OCTOBER:
12 pm
MAY - SEPTEMBER:
12:15 pm & 5 pm
EL PROGRAMA DIARIO (Spanish)
ABRIL & OCTUBRE:
SOLO LOS VIERNES A LAS 12:15
(reserva obligatoria)
MAYO - SEPTIEMBRE:
TODOS LOS DÍAS A LAS 12:15
(reserva obligatoria)
*(Lovrijenac) ST. LAWRENCE'S FORT ENTRANCE FEE:
On this tour we visit the fort of St. Lawrence. Entrance tickets are mandatory for all those visiting the fort. They are NOT included in the tour price.
In 2023 the entrance fee is 15 € per person or 0 € if you have a valid city walls ticket that was purchased max 72h prior to entering the fort. Entrance is to be covered on spot, upon entering the fort. They accept Euros or credit cards. Once again, this is NOT included in the price of the tour.
You can also buy entrance tickets for the city walls / fort St. Lawrence on the website of the
Society of Friends of Dubrovnik Antiquities (Click to buy entrance tickets)
Important notes
1
ENTRANCE TICKET FOR THE FORT OF ST. LAWRENCE IS NOT INCLUDED!
Entrance tickets for the fort of St. Lawrence are mandatory for this tour. They are NOT included in the price of the tour. Price of the ticket in 2022 is 100 kn (cca 13 €) per person. Please note they only accept Kunas or credit card (no Euros).If you have a valid city walls ticket, you don't have to pay to visit the fort. But please be aware that the walls ticket is valid for the fort only up to 72 hours from the purchase.
2
TOUR NOT SUITABLE FOR EVERYONE
GOT tour, due to the stairs in and around the fort of St. Lawrence is not recommended for everyone.
3
A MINIMUM OF 2 POLICY ALWAYS APPLIES
Our only requirement for a guaranteed departure of all our daily walking tours is to have a minimum of 2 people. In case less than 2 people turn up, on spot you'll be offered 3 options: 1.) to pay for additional tickets, to reach the minimum of 4; this way you might have a private tour at bargain price 2.) to come back at another scheduled time (again a min of 4 policy applies) 3.) to get a full refund
Address is: BRSALJE 8. Look for ORANGE UMBRELLA. Meeting point is in Pile area, this is the last bus / taxi stop when heading towards the old town.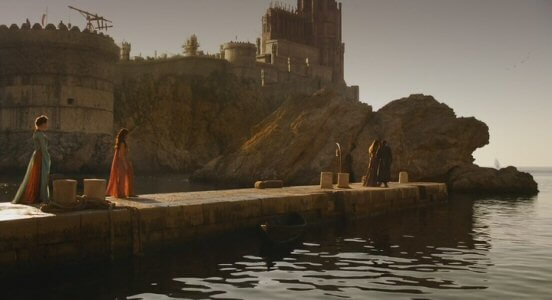 How and when?
Meet your guide at the
Meeting Point
5-15 minutes before the starting time or book online to secure your spot. Please don't be late as we don't normally wait for latecomers. From April to October there is no need to reserve in advance.
From November to March reservation is required. Please note that the guide will only show up if there are confirmed bookings in advance.
You'll see a
Dubrovnik Walks
orange umbrella. See you there!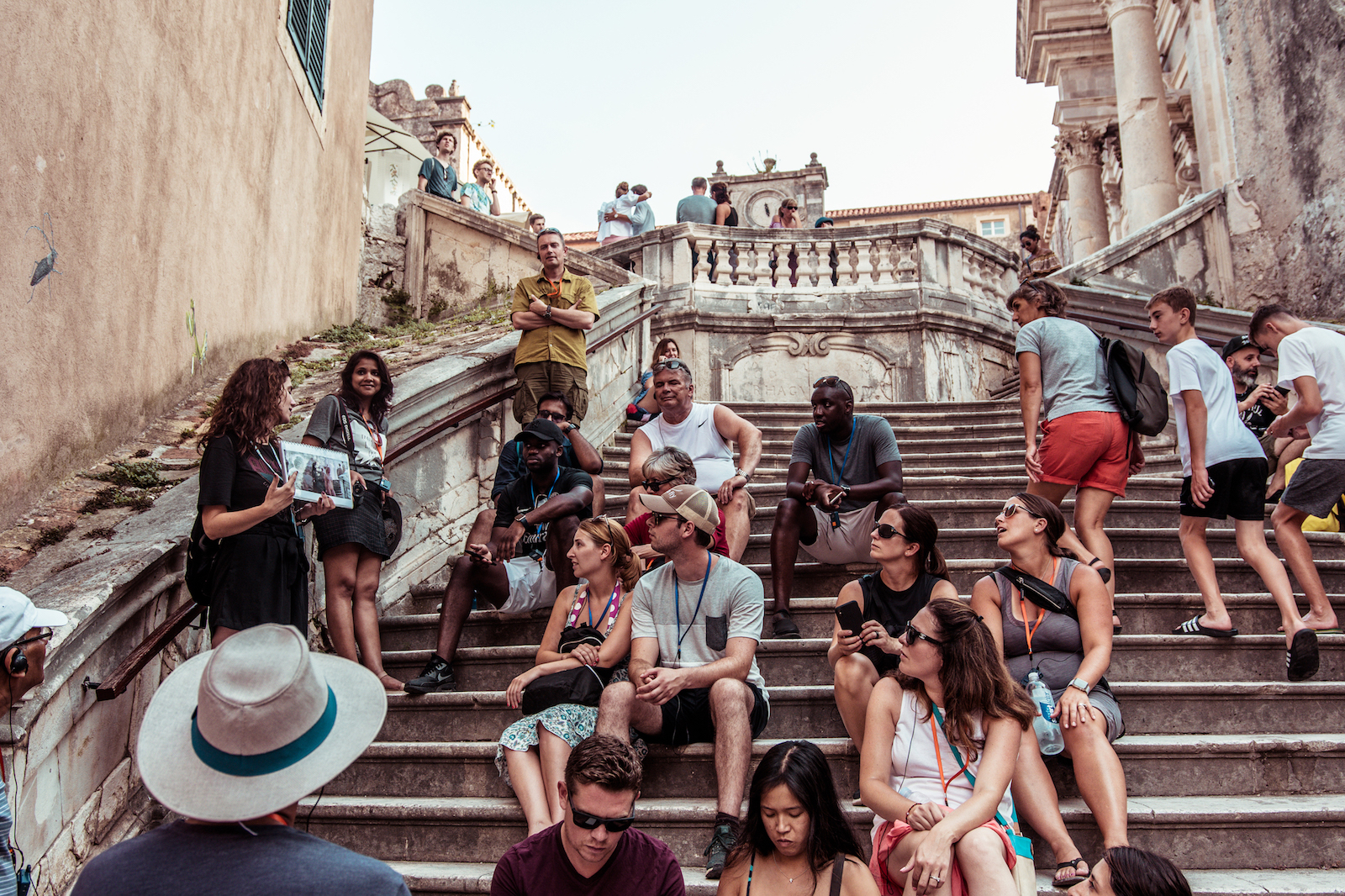 Charlotte N
---
Absolutely fantastic guide. Who knew exactly what she was talking about! Could answer all of the questions the group had. Would reccommend wearing sensible shoes as the pathways can be quite uneven
Maria
---
We enjoyed a wonderful tour ! Branko our guide showed us the different Game of Thrones locations but he also did an excellent job of providing some real historical information into the tour. He was very nice and friendly making sure that everyone in the group gets caught up specially in walking the high steps up the hilly parts of the location :) He made it really interesting and entertaining even for those who have not watched GoT - he also provided some helpful tips at the end of the tour. We came from a cruise with very limited time so the company Dubrovnik Walks recommended that we do the photo on the replica throne right before the beginning of tour... truly enjoyable !!
Vanessa
---
Marco was our guide and he was brilliant! He was funny, interesting and knew everything there was to know. We visited lots of scenes such as Black Water Bay, The Red Keep, the purple wedding, saw there little fingers brothel was and of course the famous walk of shame. To which my partner had to shout shame shame as I walked down the steps. Over all, was a well spent couple of hours and it makes you appreciate how much effort went into producing the great TV show. Could praise Marko enough. If you want a GOT tour, this is the one to go with!
Maja
---
Good tour with a great guide (Jadranka). She had a lot of interesting information both about GOT but also about the city in general. I liked that she had a book of photos of scenes from the show so you could see the locations in context on the show. Athough we went on this tour in late Octoberit was very hot, so I don't know how this tour is when it's summer but I'm guessing it's even hotter and the risk to get a sunburn is probably very high since we were out in the sun and almost got no shade for 2 hours. So just think about that and bring sunscreen!Overall a really good tour and I would really recommend it!
Pioneer23729
---
Jelena was phenomenal! We loved, loved this tour. She showed us pictures from the show and explained how things were shot. It was so interesting and we were big Game of Thrones fans so this was one of our favorite tours.