Top summer activity!
Enjoy Dubrovnik's top summer activity today and experience beautiful local natural and historical heritage from the seaside. Discover amazing views of the old town, city walls and around Lokrum Island and learn a bit about the history of Dubrovnik.
Distance between the starting position and the finishing point: cca 7 km (4.3 mi)
Suitable for: Our sea kayaking tours are designed so they can be completed by people of all ages and require reasonable fitness level. No experience necessary. Minimum fitness level required, as after all there is some paddling ahead of you! Minimum Age: 5 years
Duration: 2,5 - 3 hours
Price: 230 kn (32 €) per person

MAY & OCTOBER
Daily at 11 AM
JUN - AUG
Daily at 9 AM & 1 PM
SEPT
Daily at 9 AM & 12.30 PM (Sept 1-15th)
Daily at 9 AM (Sept 16-30th)
Daily at 12:30 pm Only 2 h short tour*(Sept 16th - 30th)
*Short tour duration: 2 hours
Price: 200 kn (28 €) per person

How and when?

Tour commences from our meeting point, it lasts for about 2,5 - 3 hours. A guide escorts the tour in his own kayak, which starts from Pile bay, goes around Lokrum island, then we stop in Betina cave for a snorkeling break (accessible only from the seaside) and paddle back by the walled city, towards the starting point.
All kayaking equipment, life jacket, snorkeling gear, waterproof bag for personal belongings, insurance, sandwich/fruit snack and a bottle of water are all included in the price.
Please note that booking is required for this tour, you can however book for the same day, or a few hours before.
Meet your guide at the Meeting Point 20 minutes before the starting time.
You'll see a Dubrovnik Walks orange umbrella.


WHAT'S INCLUDED?

Kayaking gear

Snorkeling gear (upon request only; due to the pandemics)

Large waterproof barrel for personal items

Life jacket

Insurance

Sandwich/snack

0,5 l water

English speaking guide

Visit to the Betina cave/beach
WHAT TO BRING?

Flip flops or water shoes
Hat
Sunscreen
Sunglasses
Swimsuit
T-shirt
Towel
Important notes
1
BOOKING REQUIREMENTS & LATECOMING
Booking for our kayaking tours is required. We will not accept latecomers, arrivals on alternative days or times other than the one indicated on your voucher. Please be at the meeting point 20 minutes before the scheduled time, so that you actually start paddling by the advertised time.
For all our tours in in front of Sky bar (ex Fuego) in Pile area, right by the bus stop. Pile is the last bus / taxi stop when heading towards the old town. Look for Dubrovnik Walks sign and orange umbrella!
3
HAZARDOUS WEATHER CONDITIONS
We reserve the right to cancel the trip, without prior notice, in case of bad weather conditions. In addition, guides retain the right to change the route. Please note that in case of poor weather conditions, we'll offer to: a) reschedule the tour
b) change the kayaking ticket for a walking tour or
c) fully refund

4
SAFETY INSTRUCTIONS & NOT RECOMMENDED FOR
PLEASE NOTE It is necessary to comply with all safety instructions provided by Dubrovnik Walks. Your safety is very important to us. This tour is not recommended for: 1. participants with back problems 2. participants with heart complaints or other serious medical conditions 3. pregnant women
This tour is not for everyone, kilometers of paddling are ahead!
DO NOT BOOK IF YOU:
1. Are pregnant!!!
2. Suffer from seasickness!
3. Have heart condition!
4. Have back issues!
5. Have any difficulty in using your arms/legs!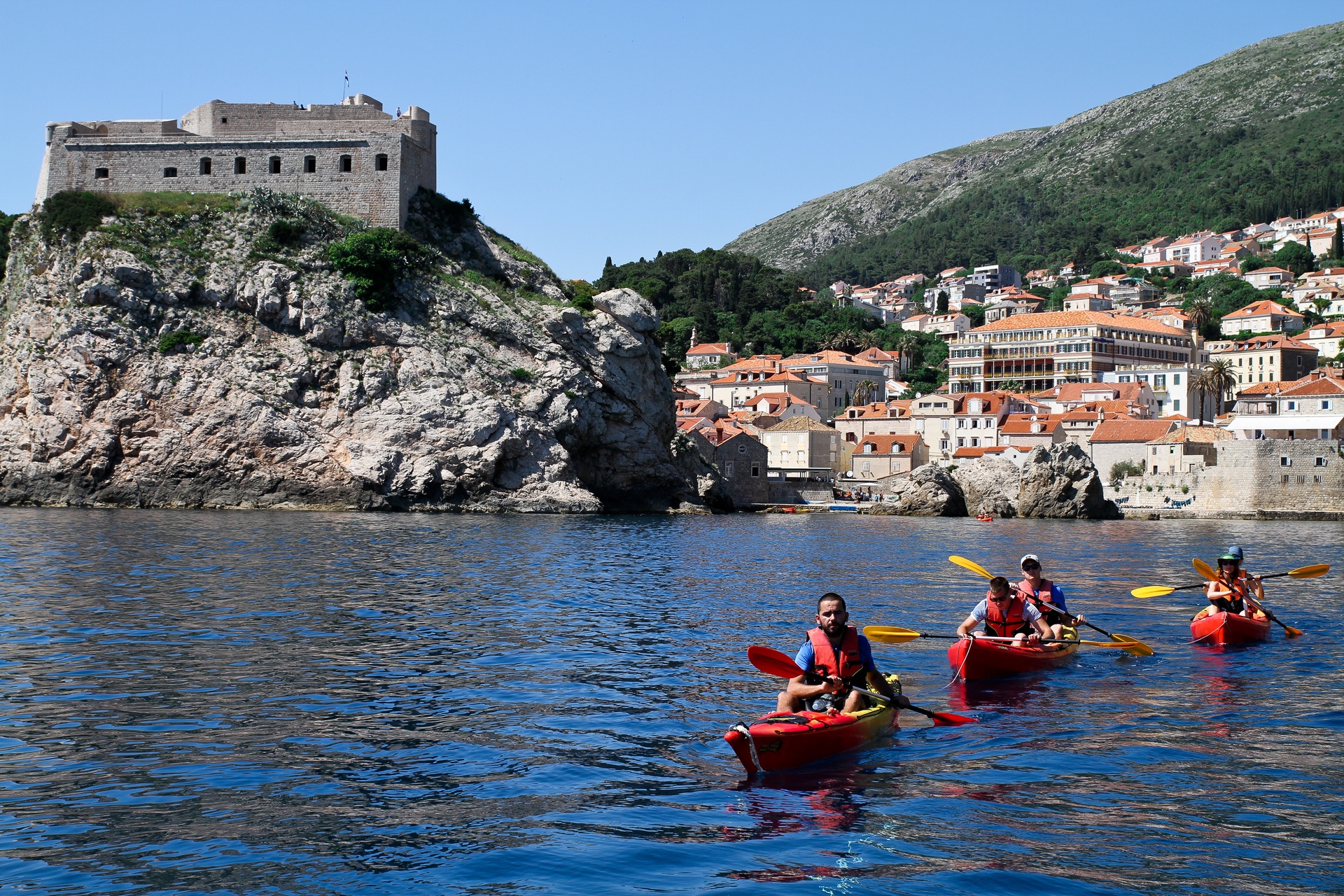 amcpherson1
---
Always wanted to go kayaking. Couldn't have picked a more perfect place to start. Guide was great and very informative. Sandwich and water tasted like nectar after you have worked for it!! Stopped in a large cavern for lunch with a spot of snorkelling. Fantastic would do it again tomorrow, and the next day and.....
Breda
---
What a professional service. We really enjoyed this so much , the kayaking and the snorkelling and the swim in the sea !!! Def recommend this activity !
Nicolle Z
---
Best way to see Dubrovnik, and fun! The guide was extremely knowledgeable and encouraging to our group who was certainly getting tired, but he made it fun and exciting the entire time. Best experience in Dubrovnik.
Jérôme
---
This was a really fun day. It's ok if you don't have any experience in kayaking you should get it by the end of the day. The guides were great and allowed you to choose to spend more time on the beach or do more kayaking around Lokrum which was great if you want more sport or leisure. Overall i would advice you to be decently in shape and enjoy your time
Imran
---
Tour guide was excellent and the views were incredible.