Defenses & fortification system of Dubrovnik (2h tour)
Discover how the tiny yet prosperous republic of Dubrovnik survived against powerful and dangerous foes, thanks to both its defensive fortifications and the diplomatic skills of its leaders.
On this historic walk, your guide will lead you on a journey through the city's defensive and political challenges over the centuries, where the leaders and walls of Dubrovnik held firm against all odds.


Experience breath-taking views of the port and old town as you walk on top and around the city walls. Explore significant landmarks such as Revelin Fortress, Minčeta Tower, Lovrijenac Fortress, and more. Learn why the city walls were essential structures that protected the people and wealth of the old town for centuries.
This tour also covers the Croatian War of Independence (1990s), providing an in-depth understanding of the conflicts and the war that took place in the region.
Please note that due to the stairs on the city walls, this tour involves physical activity and is not suitable for everyone.
Additionally, pregnant women are not permitted on this tour and there are no planned bathroom breaks during the 2-hour tour.
If you are fascinated by rivals, enemies, conflicts, and wars, then this tour is perfect for you!
---
Duration: 2 hours
Price: 25 € per person + city walls entrance fee*
Child aged 7-11:
Tour is free of charge, but city walls fee still applies. Paid at the city walls to the city walls authorities.*
Child aged 0-7:
Free
All minors must be accompanied by an adult.
DAILY SCHEDULE 2023 🇬🇧
APRIL & OCTOBER: 12 pm (reservation mandatory)
MAY, JUNE & SEPTEMBER: 9:15 am & 3:30 pm
JULY: 9:15 am & 6 pm
AUGUST: 9:15 am & 5:30 pm
---
* CITY WALLS ENTRANCE FEE: On this tour we visit the city walls. Entrance tickets are mandatory for all those visiting the walls. They are NOT included in the tour price. We don't sell or resell them.
In 2023 the city walls entrance fee is 35 € Eur per person, 15 € Eur for children aged 7 to 18, free of charge for children under the age of 7.

City walls tickets are maintained by the Society of Friends of Dubrovnik Antiquities and all proceeds from the sale of tickets for the city walls entrance go to them.
Please note that the entrance fee for the city walls are used for the maintenance and preservation of the walls, ensuring that they remain in good condition for future generations to enjoy. Your contribution is highly appreciated and plays a vital role in the continued upkeep of this historical landmark.
HOW CAN YOU BUY CITY WALLS TICKETS?

OPTION 1. City walls tickets can be purchased on-site when entering the walls. (35€ per person, 1 entry allowed)
OPTION 2. If you have a valid

DUBROVNIK PASS

you can enter the city walls for free. (1 day pass is 35€ per person, 1 entry allowed)
!
OPTION 3. Alternatively, you can buy"

City Walls Entrance ticket IN ADVANCE

, via the official website of the Society of Friends of Dubrovnik Antiquities. (35€ per person, 1 entry allowed)


We recommend considering the PASS as it offers the best value for the same amount of money with many inclusions for the same price.
How and when?
Meet your guide at the Meeting Point 5-15 minutes before the starting time. You'll see a Dubrovnik Walks orange umbrella. From June to October there is no need to reserve in advance. We do however, suggest to book in advance to secure your spot!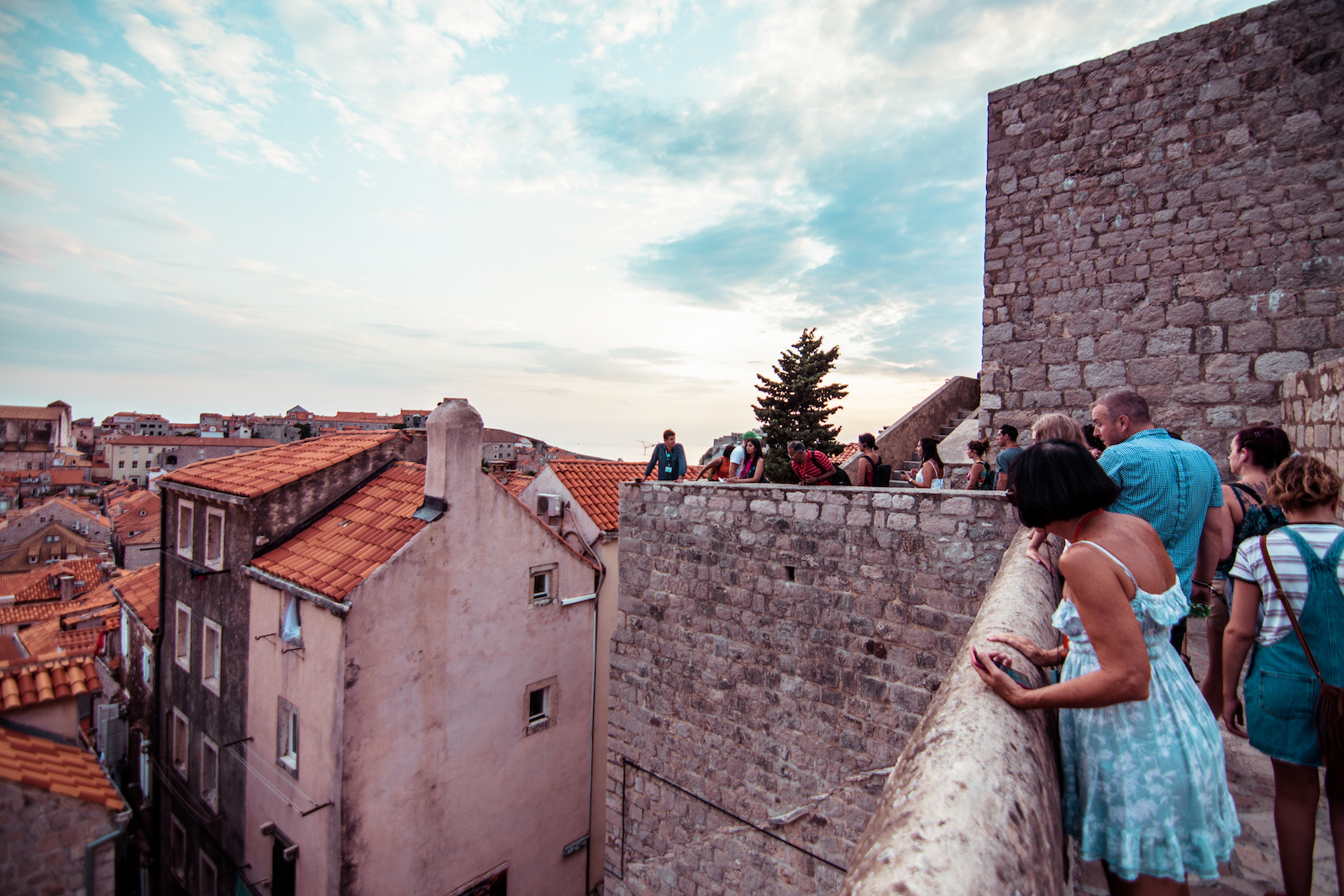 1
TOUR NOT SUITABLE FOR EVERYONE (Stairs!)
Walls and Wars tour, due to the stairs and steep parts of the city walls is not recommended for everyone, especially to pregnant women, people with heart conditions and walking difficulties!
2
CITY WALLS TICKETS ARE NOT INCLUDED
City walls entrance tickets are mandatory for this tour. They are NOT included in the price of the tour. 1. They can be purchased upon entering the walls, no need to buy them in advance. 2. Price of the ticket in 2023 is 35 € per adult, 15 € per child aged 7-18, free of charge for children aged 0-7. 3. City walls entrance ticket grants you a free access to the fort of St. Lawrence (that we visit on our GOT tour) if used within 72 hours from the purchase. 4. If you have Dubrovnik Pass card, you are entitled to 1 free visit to the city walls.
3
A MINIMUM OF 4 POLICY ALWAYS APPLIES
Our only requirement for a guaranteed departure of all our daily walking tours is to have a minimum of 4 people. In case less than 4 people turn up, on spot you'll be offered 3 options: 1.) to pay for additional tickets, to reach the minimum of 4; this way you might have a private tour at bargain price 2.) to come back at another scheduled time (again a min of 4 policy applies) 3.) to get a full refund
Unfortunately, this tour is on offer only as a private tour in this period. Please contact us if you are interested in this tour. +385 95 806 45 26 or contact@dubrovnikwalks.com
Kirsty
---
I booked the Walls and War walking tour. I highly recommend visiting the town walls. A beautiful and imposing piece of history. Goran was a fantastic guide. He had lots of information and stories about not just the history of the City Walls but of Dubrovnik through the Centuries. He was alao really open to any questions people had and very approachable. He is also an awesome photographer. As a solo ttaveller he helped me to get some memories which I normally wouldnt habe been able to alone. And the views are spectacular. Thank you
neuchcat
---
Our walk with guide Marco was excellent. He had a lot of knowledge on history and the city, and took us from Roman times to present-day. He was good at involving our kids and keeping them interested. He was very conscious on everyone's safety and physical conditions as well, pacing the tour appropriately.You're given a headset with an earpiece to better hear the guide which helps alot.Be prepared for a 2-hour 2-kilometer tour around the wall, moving up and down stairs. Bring water, sunscreen and a hat. There are a few places along the wall that do have toilets but best to hit the toilet before you start..Amazing views of the city and surrounding area, I definitely recommend it.
Carole
---
Davos was our tour guide on a very hot sticky afternoon. We followed him up many many steps in the heat but it was so worth it. The views of the city are breath taking and Davos's amusing account of the historical background of the walls was very entertaining. For 2 hours he very eloquently outlined the main events of the past which have impacted on the city and the country. You will enjoy this tour - Davos is clearly very passionate and well informed about his country's history. And the walls are amazing
Natalia
---
The meeting point was easy to find and the app helped by tracking your location. The guide was very knowledgeable about the history of the wall and it's developed. The timing of our tour, at sunset, was wonderful as we were able to capture amazing photos of the city, as well as not having the heat of the day.
Maria
---
We were lucky to have Jelena as our tour guide. Jelena was so passionate, knowledgeable and informative. The tour itself lasted just over the two hours which taught us so much, plus we were lucky to be in a small group so it felt very personal. Would highly recommend, thank you.
Ivan Riccardi
---
This tour is awsome! it is a great way to learn about Dubrovnik and provides very good sightseeing as well. We were extremely lucky to be with Jadranka (our guide), she is super knowledgeable about the city and Croatian culture, kind and attentive.
Miranda287
---
We had an excellent guide who gave us an entertaining and well informed historic summary and perspective on the walled city of Dubrovnik. I would highly recommend this tour to any visitor.