Intrigued by our city and its general history, but also the rivals, enemies, conflicts and wars? Then this is a perfect option for you!
For those wanting to truly experience the best of Dubrovnik, we invite you to combine 2 walks on 1 ticket - at a 20 kn discount!
PRICE: 260 kn (36 €) per person + the walls entrance ticket*

*the city walls entrance fee (+200 kn per person in 2021) to be paid on spot, upon entering the walls


DURATION: 1,5 h Discover the old town + 2 h Walls & Wars (total 3,5 h combined)

Please join either our Discover the old town walk or Dubrovnik Walls & Wars walk at any schedule time and request a combo ticket. This ticket will allow you to take the remaining walk at any other scheduled time at your convenience.
Total duration is 3,5 hours, but please keep in mind that these are 2 separate tours, that you can do both in the same day or days apart. All you need to keep in mind are the scheduled times.
Also please bear in mind that the Walls tour involves stairs, so it is not suitable for pregnant women, small children (strollers) or disabled persons.
DISCOVER THE OLD TOWN TOUR
General introductory tour of the old town
You'll hear some of the fascinating stories and remarkable facts from around 1,400 years of Dubrovnik history, including the classic period of the Republic of Ragusa. It is an excellent introduction to the old town.
WALLS & WARS TOUR
Your guide will lead you on top of and around the city walls for breath-taking views of the port and the old town. You'll discover Revelin Fortress, Minceta Tower, Lovrijenac Fortress and more - and why the city walls served as essential structures protecting the people and wealth of the old town for centuries.
This tour is a bit steep due to all the stairs on the city walls and therefore not suitable for everyone. It is focused on defense and fortification system of Dubrovnik.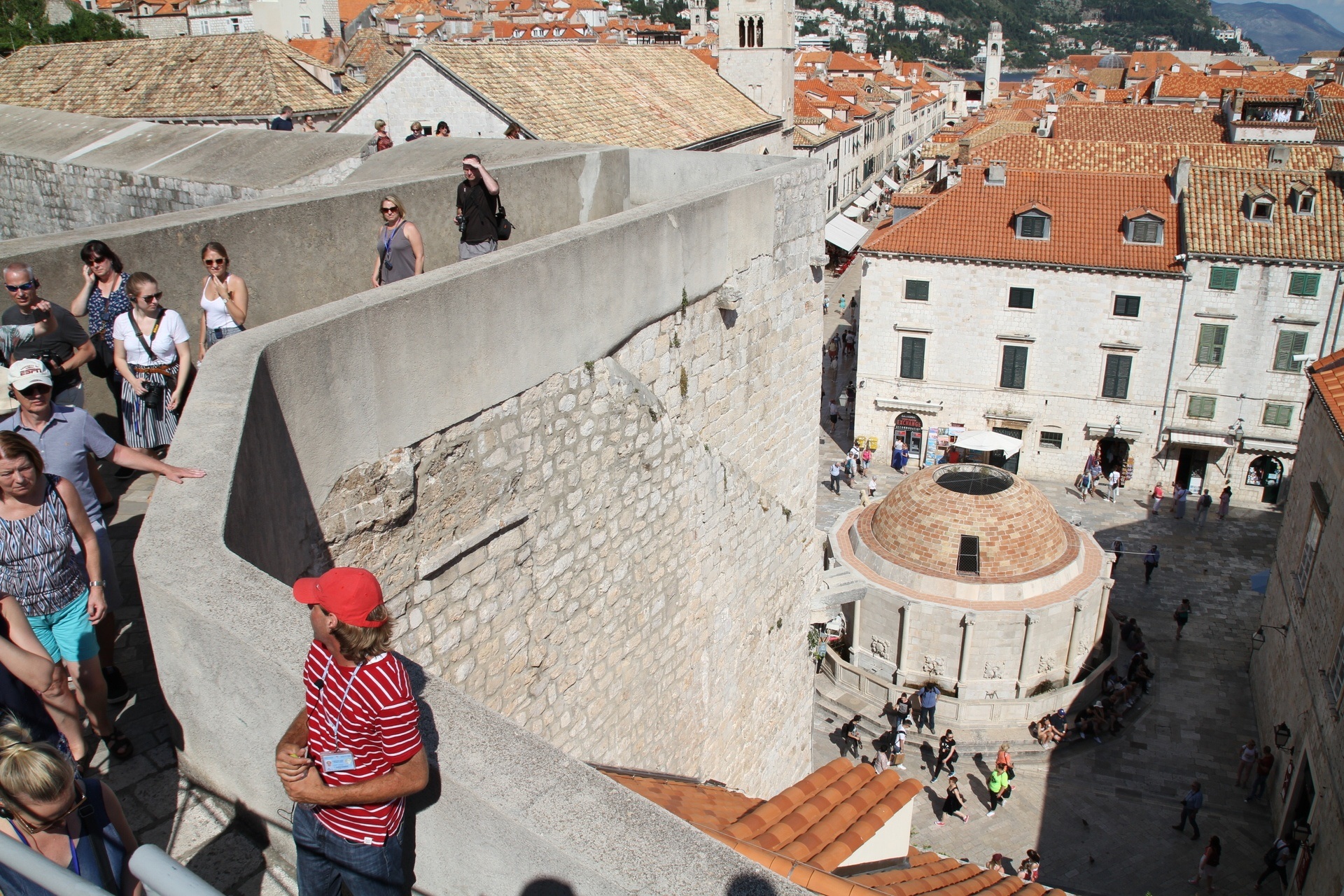 How and when?
Meet your guide at the Meeting Point 5-15 minutes before the starting time. You'll see a Dubrovnik Walks sign & orange umbrella - you can buy a ticket on the spot. No need to reserve in advance, but if you do book, please note you need to come at the time you are booked for. See you there!
The two walks can be used days apart, or same day. Please note that they don't run consecutively, but according to this schedule:
DISCOVER THE OLD TOWN TOUR-- DEPARTURE TIMES 2021:
MAY
DAILY at 10 AM
JUNE & SEPTEMBER:
10 AM & 6 PM
JULY:
10 AM & 4 PM
AUGUST:
10 AM & 3 PM
OCTOBER:
10 AM & 6 PM (*6 pm only until Oct 20th)
DURATION: 1.5 h
WALLS & WARS TOUR-- DEPARTURE TIMES 2021:

MAY:
12 pm (reservation mandatory)
JUN, SEPT & OCT:
3:30 pm
JUL:
6 pm
AUG:
5:30 pm
DURATION: 2 h
* CITY WALLS ENTRANCE FEE:
In 2021 the city walls entrance fee is 200 kn per person (around 27 Eur) - to be covered on spot, to the city walls. They accept Kunas or credit cards.Once again, this is NOT included in the price of the tour.
Important notes
For all our tours in in front of Sky bar (ex Fuego) in Pile area, right by the bus stop. Pile is the last bus / taxi stop when heading towards the old town.
2
A MINIMUM OF 4 POLICY ALWAYS APPLIES
Our only requirement for a guaranteed departure of all our daily walking tours is to have a minimum of 4 people. Please note that we require a minimum of 4 people per walk in order to guarantee a departure of each daily scheduled guided walk. For winter tours we need a minimum of 2. In case less than 4 people turn up, on spot you'll be offered 3 options: 1.) to pay for additional tickets, to reach the minimum of 4; this way you might have a private tour at bargain price 2.) to come back at another scheduled time (again a min of 4 policy applies) 3.) to get a full refund
Also, if a weather is very poor, we might cancel the tour. A reschedule or a refund will be offered in this case, but only if we cancel the tour. How will you know for sure? Contact us (click on the upper right corner). For everything else, please contact us, or visit our Frequently Asked Questions page.