Juego De Tronos & Casco Viejo


Una hora y media de casco viejo y Juego de tronos localizaciones.

Dubrovnik fue elegido como el set para la serie de HBO,súper popular, desde la segunda hasta la séptima temporada.
Su guía está licenciado de la parte del Ministerio del turismo croata, fluente en español y gran fan de Juego de tronos..

En este tour visitaremos los sitios principales de la ciudad, pero también Desembarco del Rey.
El tour no incluye la visita a la fortaleza de San Lorenzo.
Visitando cada localización, miren un álbum de fotos de la serie, que muestra escenas y localizaciones donde se ha desarrollado el rodaje. Únase a este tour guiado de 1,5 hora, en las localizaciones del rodaje y descubra el verdadero Desembarco del Rey.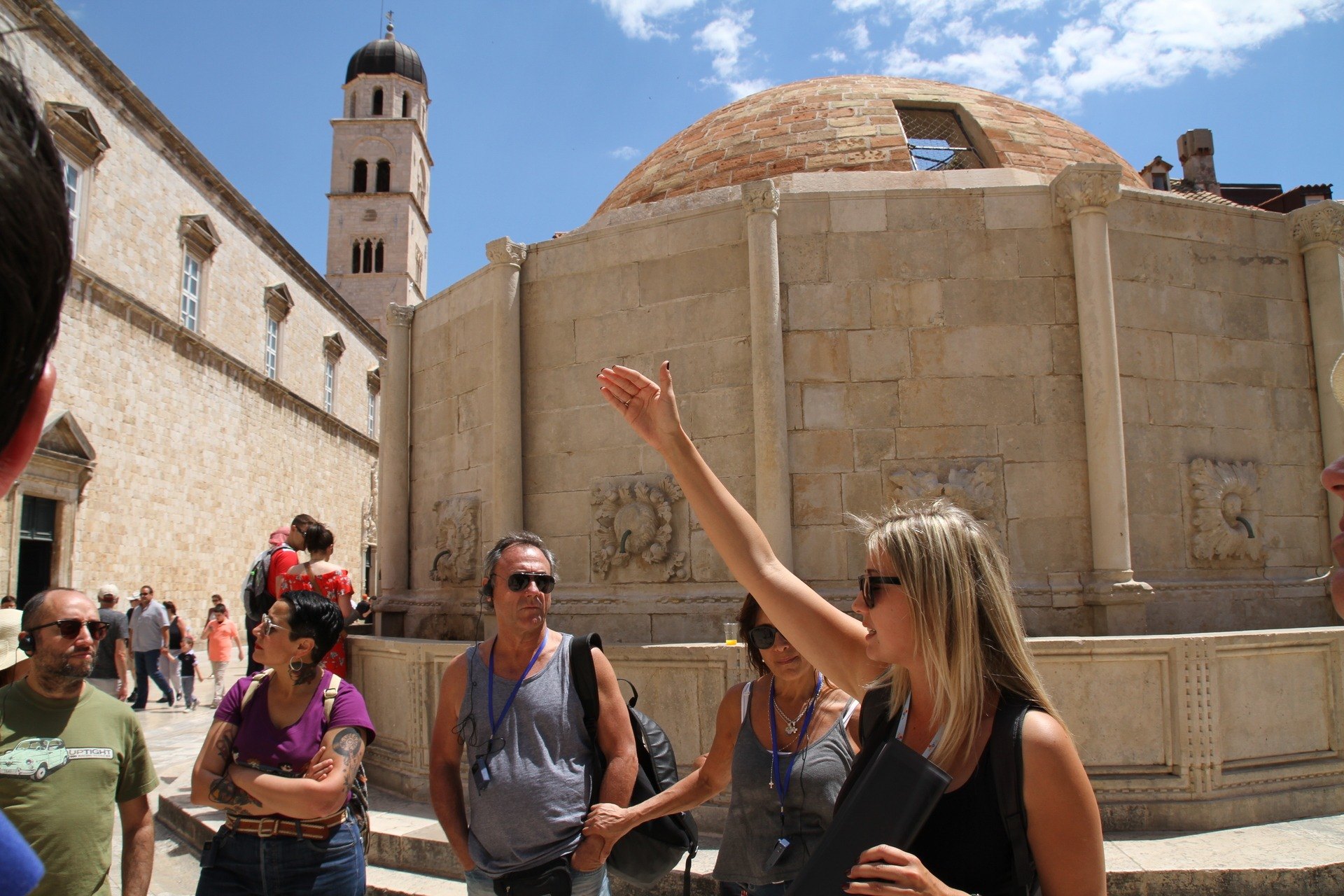 ---
MAYO 1 - SEPTIEMBRE 30, 2019
TODOS LOS DIAS a las 16:00
IDIOMA: Español

DURACIÓN: 1.5 hora
PRECIO: 150 kn (20 Eur) por persona
How and when?
COMO/CUÁNDO
No se requiere la reserva para unirse al tour.
Si no tiene la reserva ya hecha es suficiente simplemente reunirse con el guía en el punto de encuentra 5 – 15 minutos antes de la hora fijada del tour. Va a ver el signo Dubrovnik Walks – ahí puede comprar el billete, no es necesario hacer reservacion con anticipio. ¡Nos vemos ahí!

MAYO 1 - SEPTIEMBRE 30, 2018
TODOS LOS DIAS a las 16:00
PRECIO: 150 kn (20 Eur) por persona

IMPORTANTE PARA SABER

Se requiere un mínimo de cuatro personas para realizar el tour.

En el caso de que, en el tour, aparezcan menos de cuatro personas, le ofrecemos tres opciones:
1) Pagar para los billetes adicionales( para alcanzar un mínimo de cuatro personas); de este modo puede tener un tour privado a un precio muy barato.
2) Volver a otra hora fijada para el tour ( de nuevo un mínimo de cuatro personas.
3) Recibir el reembolso completo.

Punto de encuentro está en frente de Sky bar, que está ubicado en la Puerta de Pile cerca de la parada de autobuses.
Pile es la última parada de autobuses cuando se va al Casco Viejo.

Important notes
For all our tours in in front of Sky bar (ex Fuego) in Pile area, right by the bus stop. Pile is the last bus / taxi stop when heading towards the old town.
2
A MINIMUM OF 4 POLICY ALWAYS APPLIES
Our only requirement for a guaranteed departure of all our daily walking tours is to have a minimum of 4 people. Please note that we require a minimum of 4 people per walk in order to guarantee a departure of each daily scheduled guided walk. For winter tours we need a minimum of 2. In case less than 4 people turn up, on spot you'll be offered 3 options: 1.) to pay for additional tickets, to reach the minimum of 4; this way you might have a private tour at bargain price 2.) to come back at another scheduled time (again a min of 4 policy applies) 3.) to get a full refund
If weather conditions are very poor and unfavourable, we might cancel the tour. A reschedule or a refund will be offered in this case, but only if we cancel the tour. How will you know for sure? Contact us (click on the upper right corner). For everything else, please contact us, or visit our Frequently Asked Questions page.